Trinidad Birdwatching Tour
Lowlands Bird List
We visited several grassy and brushy sites in the hot, somewhat drier lowlands. The grasslands of the agricultural station, the brushy abandoned runways of the abandoned Wallerfield U.S. military base, and the Arena dam and reservoir were some of the locations. These are some of the birds:
Pied-billed grebe
Olivaceous cormorant
Great egret
Little blue heron
Immature scarlet ibis
Black-bellied whistling duck
Black vulture
Gray-headed kite
Plumbeous kite
Pearl kite
Common black-hawk
Savanna hawk
Broad-winged hawk
Yellow-headed caracara
Southern lapwing
Common ground-dove
Ruddy ground-dove
Orange-winged parrot
Squirrel cuckoo
Little cuckoo
Smooth-billed ani
Fork-tailed palm-swift
Ruby-topaz hummingbird
Southern beardless-tyrannulet
Yellow-bellied elaenia
Great kiskadee
Piratic flycatcher
Tropical kingbird
Tropical mockingbird
Bananaquit
Bay-headed tanager
Red-legged honeycreeper
Violaceous euphonia
Blue-gray tanager
Palm tanager
Silver-beaked tanager
White-lined tanager
Red-crowned ant-tanager
Blue-black grassquit
Yellow-bellied seedeater
Ruddy-breasted seedeater
Giant cowbird
Red flowers and senstive mimosa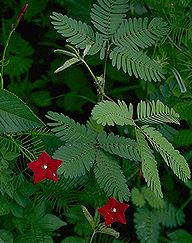 Birding at Arena Reservoir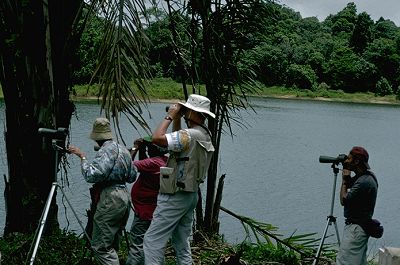 ---
Birding in Trinidad: trip report
Send comments to Pamela Marshall or David Emerson.

Text and web design: Pamela Marshall.
Photos: David Emerson (most) and Pamela Marshall (a few).
Copyright © 1997 Pamela J. Marshall and David J. Emerson. All rights reserved.
Last edited: June 25, 1998.