Trinidad Birdwatching Tour
About our trip to Trinidad
In March 1996 we joined an 11-day birdwatching tour in Trinidad and Tobago organized by Caligo Ventures. In Trinidad, we stayed at the Asa Wright Nature Lodge and made daily excursions to prime birding sites with Jogi Ramlal and his son Mahese. Jogi has been guiding birders in the field for 50 years -- beginning when a Cornell birding station was located near the Asa Wright planatation. He is expert at know where to find birds and how to attract them so we could get a good view.
Trinidad is an exciting place to start birding in the tropics. There are many species, from hummingbirds to hawks, some unique to Trinidad and some found also in South America. We saw over 160 species on Trinidad and Tobago - most of them new to us. Some sharp-eyed members of our group saw over 190 species.
Our picture list gathers all 80+ pictures with titles. The categories are by type of picture, rather than birding location. Only some of the pictures are included in the descriptions.
Birding locations in Trinidad
We traveled thoughout the northern half of Trinidad. The birding sites on the map are: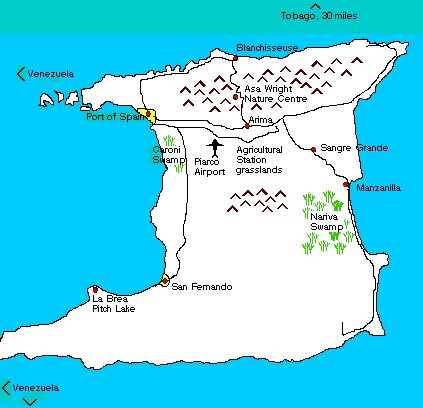 ---
Birding in Trinidad: trip report
Send comments to Pamela Marshall or David Emerson.

Text and web design: Pamela Marshall.
Photos: David Emerson (most) and Pamela Marshall (a few).
Copyright © 1997 Pamela J. Marshall and David J. Emerson. All rights reserved.
Last edited: June 25, 1998.