Trinidad Birdwatching Tour
At the Asa Wright Nature Centre and Lodge
Hummingbirds, honeycreepers, and 
orapendula nests in the cecropia tree. 
           Vegetation - vines and flowers - everywhere. 
That was the dominant impression.. 
Pair of violet honeycreepers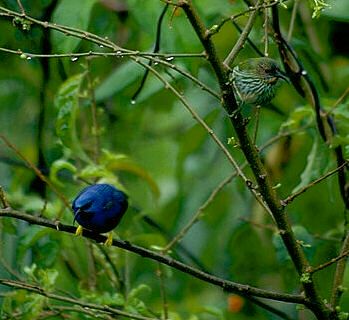 The lodge overlooks the steep sloping valley of the Arima River. At the base of the valley, maybe 10 miles distant, is the town of Arima where the land flattens out abruptly. Around the lodge the slopes are old plantation fields bordered on all sides with forest.
Lodge and veranda seen from the gardens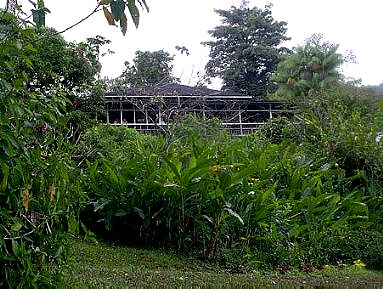 The main activities at the lodge were:
List of birds we saw around the lodge
The Lodge
The plantation is located in the northern mountain rainforest where there is abundant birdlife. Icelandic born Asa and her British husband Henry Newcome Wright bought the abandoned estate in 1946. When Asa Wright was nearing the end of her life, she worked with concerned local citizens to preserve the plantation and its population of birds, animals, and plants. Local people and foreigners all make the exciting drive on the narrow and steep mountain roads to visit the Lodge and observe its abundant wildlife. (More history)
The lodge has a dining room, gift shop, guest rooms, and a wonderful veranda overlooking the valley. A few cottages up and down the slope from the lodge have additional guest rooms. When you walk out your door, you step into a garden of birds and butterflies.
Pam and local resident on the veranda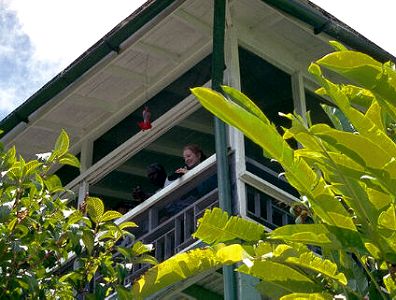 About our guides
Jogi has been guiding birders in the field for 50 years. He is expert at knowing where to find birds and how to attract them so we could get better views. He sometimes used a cassette recorder and shotgun microphone to record a bird and attract it by playing its own song back. His son Mahese was his courteous and observant assistant. They also took care of all our trip logistics, including meeting us at the airport.
The Nature Centre also has a staff of guides, mostly young and still in school. Jason, Denise, and Sheldon all could identify most of the calls and could spot many birds that our untrained eyes missed. It was their duty to fill the feeders that attracted birds for up-close viewing from the veranda. Then they either led walks or hung around being helpful and informative. They worked long days, starting with the feeders at 6am and often giving historical talks in the evening. During the day, they led tour groups or schoolchildren on walks throughout the grounds.
Purple and green honeycreepers and silver-beaked tanager on the fruit feeder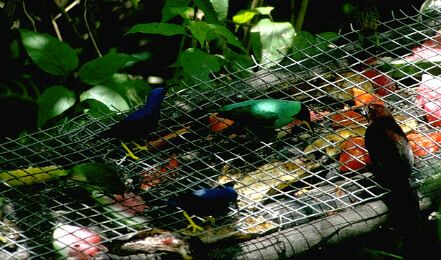 ---
Birding in Trinidad: trip report
Send comments to Pamela Marshall or David Emerson.

Text and web design: Pamela Marshall.
Photos: David Emerson (most) and Pamela Marshall (a few).
Copyright © 1997 Pamela J. Marshall and David J. Emerson. All rights reserved.
Last edited: June 25, 1998.