Trinidad Birdwatching Tour
On the veranda
Although you can gaze out over the valley from the veranda of the Asa Wright Nature Centre, the excitement for birdwatchers is practically within arm's reach. The veranda is a natural bird blind. Below the veranda and hanging from the eaves was an array of feeders, which the Centre's nature guides filled up fruit and nectar each morning. We spent lots of our free time watching a continually changing community of birds at close range. When the nature guides watched with us, they heard and identified birds on distant trees that we could barely see.
If we were on the veranda at 4pm, we drank afternoon tea and had tasty pastries, usually sweet, but once with cheese and hot pepper sauce. And 6pm was the hour for the rum punch ritual. If we were on the road past 6 o'clock, Jogi and Mahese brought the rum punch with us.
Birders on the veranda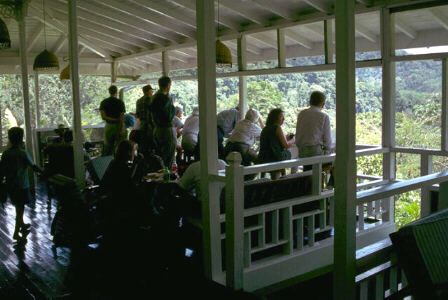 We're looking at hummingbirds, honeycreepers, cocoa thrush, woodpecker, motmot, orapendula, tanagers, ... and a lizard. Any of these or maybe all of them at once.
White-necked Jacobin and a black-throated mango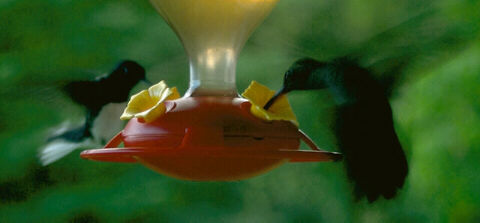 White-necked Jacobin, at the feeders every day defending his territory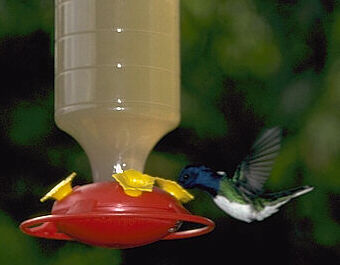 Tufted coquette, a treat to see, but it never sat still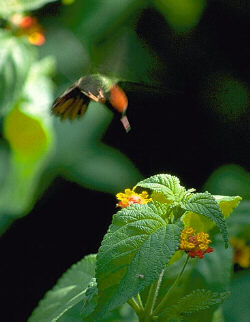 ---
Birding in Trinidad: trip report
Send comments to Pamela Marshall or David Emerson.

Text and web design: Pamela Marshall.
Photos: David Emerson (most) and Pamela Marshall (a few).
Copyright © 1997 Pamela J. Marshall and David J. Emerson. All rights reserved.
Last edited: June 25, 1998.