Trinidad Birdwatching Tour
Caroni Swamp
Caroni Swamp is one of the field trips we took during our stay at the Asa Wright Nature Centre. The goal was to see the scarlet ibis, the national bird of Trinidad. The swamp is a popular tourist trip. People on cruise ships docked in Port-of-Spain visit the swamp. Both serious birders and vacationers come to the swamp just before sunset to see thousands of scarlet ibises flying in to roost.
When you come to the swamp, you want to get a boat with other serious birders. Our boat captain pointed out much more wildlife than just the ibises. If you're with a boatload of tourists, the guide will figure people aren't interested in a barely visible potoo or a clapper rail.
As soon as we arrived at the boat launch, we waited for half an hour while the sky poured buckets. When the storm was over, we started off, moving slowly along what appeared to be a dredged channel. There were many channels among the mangroves and I don't know which were natural.
Right away, we saw interesting wildlife. A scarlet ibis that was perched close by in a mangrove took off.
Scarlet ibis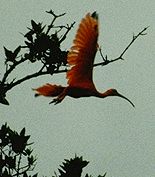 The guide knew where a well-camouflaged potoo roosted and he stopped the boat. It took a while to point it out to everyone. It was about 30 feet back in the mangroves and about as invisible as any sleeping bird would want to be. Its typical posture looks just like a branch.
The guide pointed out a sloth -- just a brown fuzzy lump back in the bushes; I had to take his word on its identity. He also showed us a snake coiled in a tree about 20 feet up.
Around a few bends, we approached some mudflats. We saw night-herons and egrets roosting in mangroves and sandpipers and willets on the flats. A real treat was a clapper rail in the mangrove roots. Practically impossible to photograph in a rocking boat.
Finally we came to fairly open water. Some boats were already moored there. We joined the lineup and waited. It was the rum punch hour (an Asa Wright tour perk), so Mahese, our land bird guide, served the refreshments. We waited and, little by little, in groups of 5 or 10 or 20, scarlet ibises flew overhead to land in the mangroves on the far side of the water. Egrets flew in too, taking their places below the ibises. Against the sky, their flight silhouettes are different. Egrets tuck their neck back; ibises extend it and you can see their delicate downcurved bill. The mangroves looked like Christmas trees covered with many bright red ornaments. Some white ornaments too. I have no idea how many birds we saw. They say thousands roost there.
Scarlet ibises roosting in mangroves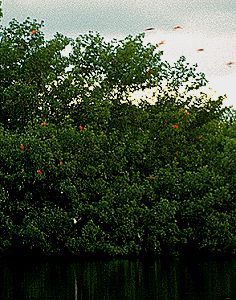 We weren't too close to the roost. There are rules about how close a boat can approach. We watched with all the equipment we had. I could see the ibises through the spotting scope by perching it on one of its legs, letting me adjust the aim as the boat rocked. We had binoculars and long camera lenses too. Finally, it grew too dark and we had to leave.
Egrets joining ibises at sunset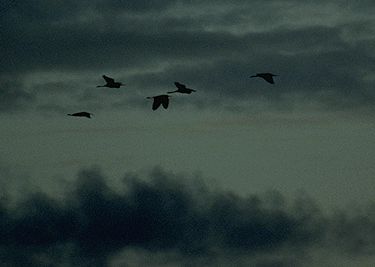 ---
Birding in Trinidad: trip report
Send comments to Pamela Marshall or David Emerson.

Text and web design: Pamela Marshall.
Photos: David Emerson (most) and Pamela Marshall (a few).
Copyright © 1997 Pamela J. Marshall and David J. Emerson. All rights reserved.
Last edited: June 25, 1998.