Trinidad Birdwatching Tour
Nariva Swamp Bird List
Nariva Swamp is a vast expanse on the east coast of Trinidad. We saw these birds in the swamp, along the coast at Manzanilla, and traveling along the road in the eastern lowlands. Jogi, our guide, made sure we were in the right place on the coast side of the swamp to see the macaws come to roost in the tall palms at sunset.
Magnificent frigatebird
Cattle egret
Striated or green-backed heron
Black vulture
Azure gallinule
Southern lapwing
Semipalmated plover
Wattled jacana
Solitary sandpiper
Ruddy ground-dove
Smooth-billed ani
Green kingfisher
American pygmy kingfisher
Yellow-throated spinetail
Great antshrike
Black-crested antshrike
Pied water-tyrant
White-headed marsh-tyrant
Great kiskadee
Tropical kingbird
Gray-breasted martin
White-winged swallow
Rufous-breasted wren
Bare-eyed thrush
Yellow-hooded blackbird
Birds in the grass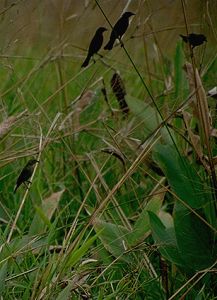 Howler monkey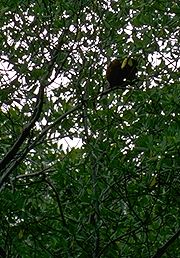 Mangroves and vines on the eastern coast near Nariva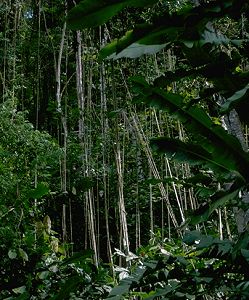 ---
Birding in Trinidad: trip report
Send comments to Pamela Marshall or David Emerson.

Text and web design: Pamela Marshall.
Photos: David Emerson (most) and Pamela Marshall (a few).
Copyright © 1997 Pamela J. Marshall and David J. Emerson. All rights reserved.
Last edited: June 25, 1998.